The History of the City
1528
Springs Amid a Swamp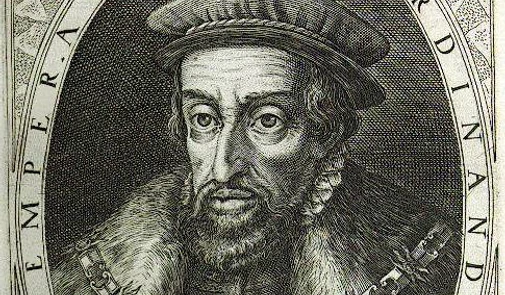 Mariánské Lázně is a relatively young spa town, developed at the beginning of the 19th century in a valley where several springs with remarkable curative properties rise from the ground. However local people were aware of the springs as early as the 1200s. In 1528, King Ferdinand ordered the springs to be tested for their salt content.
1805–1807
The First Spa House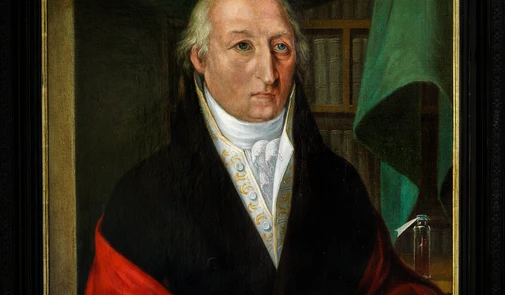 Johann Josef Nehr
the monastery doctor, who assessed the spring waters as having healing powers.
In the years 1805–1807, Dr. Johann Josef Nehr founded the first brick-built house for spa guests near the Cross Spring (Křížový) called 'The Golden Globe', built on the site of a former wooden cabin.
1812
Mariánské Lázně Appears on the Map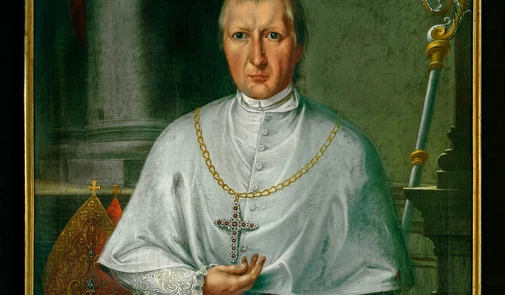 Karel Kašpar Reitenberger
in the years 1812–1827 he was Abbot of Teplá Premonstrate Monastery. He supported the building up of the spas despite the opposition of the monastery monks (which led to him spending 33 years in the exile in Tyrol for his conviction).
In 1812 the municipality of Mariánské Lázně is officially created following a decision taken by Karel Kašpar Reitenberger (abbot of Teplá Premonstrate Monastery).
1818
Mariánské Lázně Declared a Public Spa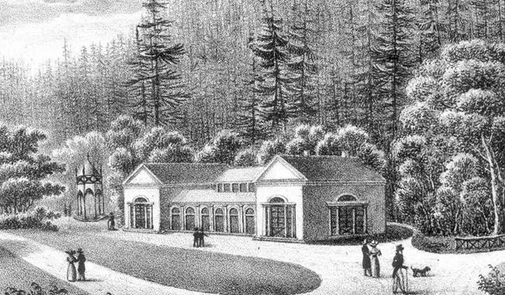 On 6. 11. 1818 Mariánské Lázně was declared a public spa by government decree issued by the Chief Burgrave F. A. Libštejnský.
1817–1823
City of parks, pavilions and colonnades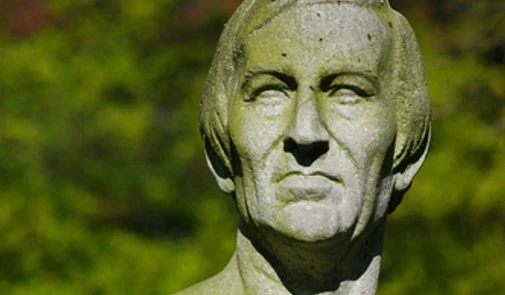 Václav Skalník
horticulturist , who in 1817 initiated a unique development of landscaping in Marianske Lazne.
Between 1817 and 1823, three noted citizens - horticulturist Václav Skalník, architect Jiří Fischer and builder Anton Turner, financially supported by the Abbot Karel Kašpar Reitenberger, transformed this inhospitable, marshy valley into a beautiful park town featuring neo-Classical spa houses, pavilions and colonnades.
1820–1850
Mariánské Lázně Gains International Renown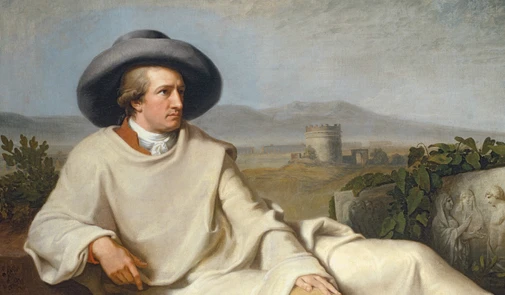 Johann Wolfgang Goethe
visited Marianske Lazne in 1820. He came to Marianske Lazne twice more and in 1823 experienced here his late love story with a young noblewoman Ulrike von Levetzow.
In the mid-19th century numerous personalities from the world of culture, science and politics arrived from all over the world to visit Mariánské Lázně. Some of the most notable names from this period include Johann Wolfgang Goethe, Prince Friedrich of Saxony, Earl Kašpar Šternberk, Joens Jakob Berzelius, Václav Jan Tomášek, and Marie Szymanowsky.
1836
Fryderyk Chopin in Mariánské Lázně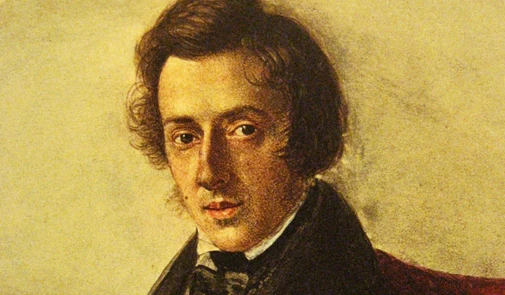 Fryderyk Chopin
polish composer and virtuoso pianist has visited Marianske Lazne on February 22, 1836, rushed here from Paris for his love Mary Wodzinska.
The town of Mariánské Lázně fondly remembers the time Fryderyk Chopin spent here. On the main street stands the Chopin House bearing a plaque - inside you'll find the Chopin Memorial Museum. Every year the town hosts a Fryderyk Chopin Festival and there's also a street and a music school named after him.
1865
Mariánské Lázně Gains Town Status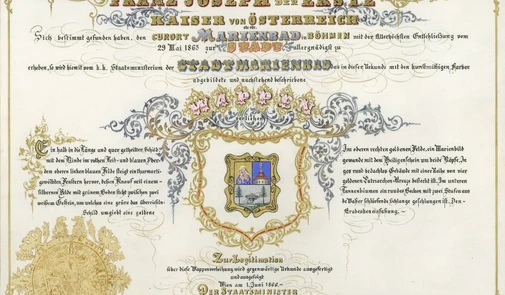 The original charter is stored in the Municipal Museum of Marianske Lazne.
On 29.5. 1865, Mariánské Lázně was officially handed town status by Emperor Franz Joseph I.
It was around this time that countless international celebrities were visiting the town - these included Fryrderyk Chopin, Richard Wagner and Anton Bruckner.
1870–1914
The Spa's Heyday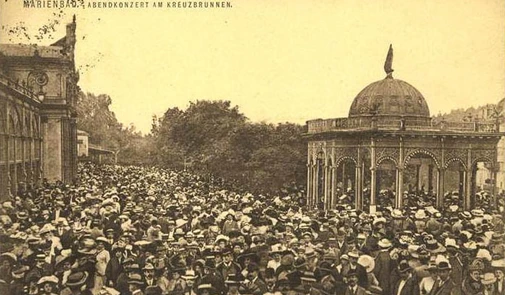 The period between 1870 and 1914 was Mariánské Lázně's heyday, reflected to this day in its numerous renovated Art Nouveau spa houses, hotels, colonnades and churches, designed by architects such as Friedrich Zickler, Josef Schaffer, Arnold Heymann and Josef Forberich. The spa parks were enlarged, and idyllic viewing points were created high above the town.
1872
World-Famous Spa Town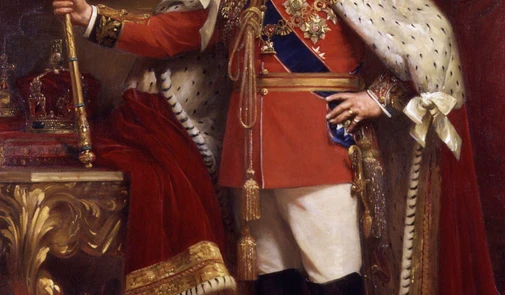 The English King Edward VII
visited Mariánské Lázně nine times as 'Lord Renfrew' or 'The Duke of Lancaster', however his incognito' was widely known there. In Mariánské Lázně, Edward met the Austrian Emperor Franz Joseph I in 1904, met with the Russian foreign minister Izplsky and French premier Clemenceau in 1907, and with Duke Ferdinand of Bulgaria in 1908.
In 1872, the railway line linking the town with Cheb, Vienna, Prague and Pilsen was opened and in 1898 the line to Karlovy Vary was completed. During this period, many more great names came to take the waters in Mariánské Lázně - these include Gustav Mahler, Friedrich Nietzsche, Franz Kafka, Rudyard Kipling, Mark Twain, Thomas Alva Edison, Pierre de Coubertin, King Edward VII of England, the Czar Nicholas II and Emperor Franz Joseph I.
Spa life remained lively throughout the first half of the 20th century. Famous people such as Tomáš Garrigue Masaryk and Edvard Beneš were still drawn to Mariánské Lázně.
2021
Mariánské Lázně added to the UNESCO World Heritage list
24.7. In 2021, Mariánské Lázně, together with 10 other European spa cities, received a positive decision and thus received the title of UNESCO World Heritage.
The intergovernmental World Heritage Committee decided on this at its 44th meeting in the city of Fuzhou in China.